Serotonin Syndrome: An Overview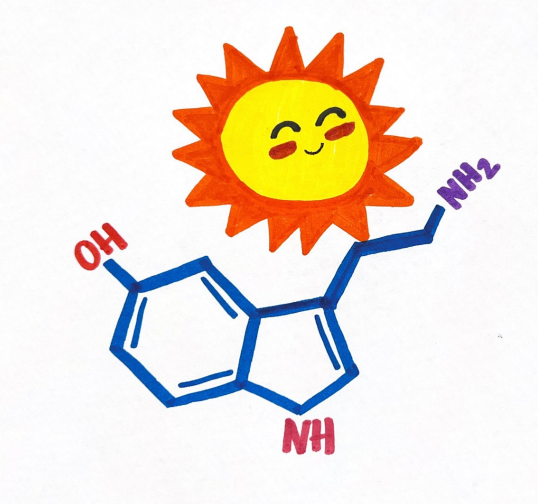 Have you ever looked at the medication guide that comes with your medicine and noticed the term 'serotonin syndrome' and wondered if you're at risk? This will hopefully help explain what serotonin syndrome is and which medications may increase your risk.
Serotonin is a chemical messenger that can be found in the the central nervous system. When serotonin binds to the serotonin receptor in the central nervous system, it helps control functions like appetite, memory, and mood, to name a few. If these receptors become overstimulated, it is thought to cause serotonin syndrome.
Clinically, serotonin syndrome can present as three distinct features: autonomic hyperactivity (increased heart rate, blood pressure, bladder function and digestion), neuromuscular dysfunction (muscle weakness, twitches, spasms, or cramps), and altered mental status. Serotonin syndrome symptoms typically begin within hours of taking the offending medication, but can be delayed up to 24 hours or longer.
Signs and symptoms of serotonin syndrome include:
Feeling anxious, restless, or confused
Sweating
Muscle spasms or muscles that cannot relax normally
Shaking or trembling
Fever
Fast heartbeat
Vomiting
Diarrhea
Medications that have the potential to cause serotonin syndrome act in the body to either increase serotonin levels or decrease its breakdown (directly or through a drug interaction). Dose increases, initiation of new medications, combining multiple serotonergic medications, and drug-drug interactions can lead to the development of serotonin syndrome.
Serotonergic drugs classes and examples of medications that fall into these categories include:
| | |
| --- | --- |
| Drug class | Examples |
| Monoamine Oxidase Inhibitors (MAOIs) | phenelzine, selegiline, isocarboxazid |
| Selective Serotonin Reuptake Inhibitors (SSRIs) | fluoxetine, citalopram, sertraline |
| Selective Norepinephrine/Serotonin Reuptake inhibitors (SNRIs) | venlafaxine, duloxetine, desvenlafaxine |
| Tricyclic antidepressants | amitriptyline, nortriptyline |
| Opioids | tramadol, fentanyl, oxycodone |
| Miscellaneous | linezolid, dextromethorphan, antiepileptics, amphetamines |
It is very easy to overlook symptoms of a milder form of serotonin toxicity since the symptoms are often common and can be caused by several different issues. Signs of mild toxicity include anxiety, rapid heartbeat, and sweating. After starting a new medication that has the potential to affect serotonin, it is important to discuss any new symptoms (even mild) with your doctor, as mild toxicity can quickly turn into a more severe form with the addition of another medication.
More severe cases can progress rapidly and can become life-threatening, leading to multi-organ failure within hours of onset. Muscle rigidity can cause a dramatic increase in body temperature, and patients can experience seizures.
The true incidence of serotonin syndrome is unknown; it is believed that the condition is under-reported due to the potential for mild symptoms. Taking multiple serotonergic medications at high doses increases a patient's risk of developing symptoms. MAOIs are typically involved in cases of severe serotonin syndrome, with the combination of MAOIs and SSRIs creating the greatest risk for development.
Treatment for serotonin syndrome in mild form typically includes stopping the offending agent. In more severe cases, patients may also need fluids and benzodiazepines (anti-anxiety and muscle relaxing effects) in order to regulate their body functions.
Medications with serotonergic effects should not be avoided out of fear of the development of serotonin syndrome. Instead, careful follow-up and monitoring of symptoms (even mild) should occur. It is very important to take all medications as they were prescribed. Always speak to your doctor or pharmacist about medication concerns and report new or worsening symptoms that occur after taking a new or increased dosage of a serotoninergic medication.
Written by: Alexandra Schroeder, PharmD Candidate 2023
Serotonin artwork by Katy Doubek, PharmD
References:
Wang RZ, Vashistha V, Kaur S, Houchens NW. Serotonin syndrome: Preventing, recognizing, and treating it. Cleve Clin J Med. 2016;83(11):810-817. doi:10.3949/ccjm.83a.15129
Bartlett D. Drug-Induced Serotonin Syndrome. Crit Care Nurse. 2017;37(1):49-54. doi:10.4037/ccn2017169
Maitland S, Baker M. Serotonin syndrome. Drug Ther Bull. 2022;60(6):88-91. doi:10.1136/dtb.2021.000032
UpToDate